Steve Hewer Fine Pyrography with Exceptional Detail
(Click an image for larger views with titles and descriptions.)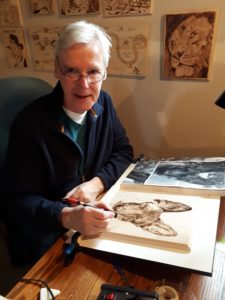 Steve Hewer specializes in fine pyrography encompassing exceptional detail. His subjects are eclectic. They include mostly wildlife, idyllic scenery and compelling architecture from around the world. It all started in August of 2017 when Steve bought a wood burning set and from that moment he was hooked, producing many practice pictures by the pound to hone a skill which is quite frankly still developing.
Inspired by images provided by his world travelled colleagues, along with his own from Europe and North America, Steve has set about putting together a collection that should have something of interest for everyone. Each picture is sketched in pencil on wood before burning. Using six nibs, multiple heat settings, speeds and angles Steve draws sepia toned images usually on poplar or maple. Smaller pictures may take as few as 30 hours to complete but most are in the range of 80-100. Extraordinary care is taken to be authentic in the final result, but he says sometimes nature needs a little help.
Steve's agenda is simple; enjoy his pictures.
Email: redwoodmouse@gmail.com
Website: www.redwoodmouse.com
Phone: (613) 407-3270