Sandy Armstrong painting landscapes, flowers and abstracts
(Click an image for larger view, title and details)
Sandy's formal art instruction started in 2005 with well known Ottawa artist, Val Roos. In 2008 she began studying with accomplished artist Marie-Hélène Lajoie at Ecole d'art Vogue in Gatineau continuing until 2016. Unfortunately, Marie –Hélène passed away in 2017. Additional art instruction has been taken with Bonnie McQuillan of Osgoode in 2013 and Ann Gruchy of Kars, Ontario 2014 and 2015.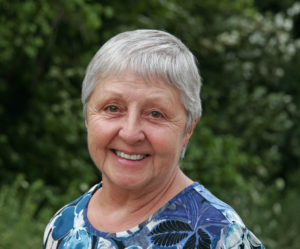 In 2005, Sandy's medium of choice was oil but in 2013 she transitioned to acrylic painting. Sandy attends two weekly paint groups; one on Monday afternoon in Kars, and another on Thursday morning with the Manotick Art Association in Manotick. She loves to paint landscapes, flowers and abstracts.
Sandy's paintings have been on display in the following locations: Kent Towers in Ottawa, La Nature de L'Art Exhibition at the forest centre at Lac La Blanche in Mayo Quebec, Café Bourg Joie in Gatineau, The Millers Oven in Manotick, The Manotick Library, Apple Crate Gallery in Manotick and at Centre Pointe Theatre in Ottawa. In addition, Posh Plum, The Crusty Baker and Geronimo's Coffee House, all in Kemptville
Sandy has participated in the following art shows: Symposium Gatineau en Couleurs in 2008 and 2009, the Aylmer Marina in 2009, 2010 & 2011, the Fall Art Festival in Papineauville Quebec in 2010, in 2011 the first Arts Festival in Buckingham Quebec. In 2012, Art in the Park at the Experimental Farm in Ottawa. She also participated in the Manotick Art Association Spring Show and Sale in 2013, 2014, 2015 & 2016, 2017, and 2018 as well as the MAA Fall Show in 2015 & 2016 & 2017, The Nepean Fine Arts League Fall Show in 2014 and 2017, the Arts Carleton Place Spring Show in 2017 and the North Grenville Arts Guild Spring Show in 2018.
Organization Memberships Past and Present:
2009, 2010, 2011 – Aylmer Arts Council.
2013, 2014, 2015, 2016, 2017, 2018, 2019 – Manotick Art Association.
2014, 2015, 2016, 2017 – Nepean Fine Arts League.
2017, 2019 – Arts Carleton Place.
2018, 2019 – The North Grenville Arts Guild.
Sandy can be contacted at sandy.andre@bell.net