Registration for the ACP Itty Bitty Art & Crafts Sale now open to all artists. Deadline for registrations – September 1st, 2018
Booths Now SOLD-OUT
ACP Workshop – Photographing Your Art – July 14, 2018
On Saturday, July 14, 2018, members attended a workshop to improve their 'Photographing Art' skills. Members brought their paintings and camera to learn how they can get quality photos to promote their art, make art cards or enter juried shows. These documents give tips for successful are photography.
ACP Photo Art WS
Avoid these 7 Mistakes when Photographing Art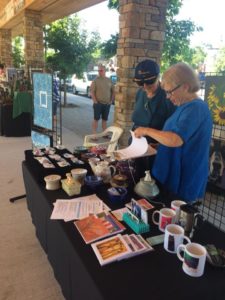 ACP Booth at Carleton Place Farmer's Market – July 7, 2018
Carolyne Buchanan and Victoria Jenkins were at the CP Farmer's Market on Saturday, July 7, 2018 showing art and promoting our association. They got several new subscribers to our monthly Artsy Happenings newsletter and a new member for the association! We have a booth at the market the first Saturday of the month in summer.
ACP Members BBQ – June 10, 2018
A great time was had by those attending the ACP Members BBQ on June 10, 2018. There was a little bit of association business and lots of good food and drinks.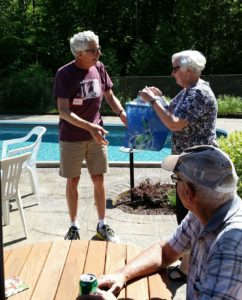 Past President Ina Jackson was presented with a card and gift in recognition of her dedicated efforts on behalf of artists, performers, musician and authors of the association for many years. Thanks Ina!