Nadia Morcos Creating beautiful 3D pictures with ribbon
(Click image for larger view and details)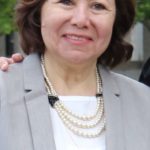 Nadia grew up in Alexandria, Egypt. She worked as a Financial Manager before she retired and immigrated to Canada.
A tablecloth decorated with ribbon flowers inspired her to create beautiful 3D pictures with ribbons and take up Ribbon Embroidery as a hobby. Overtime, she started adding other materials to her ribbon work like beads or cotton inserts, to add more texture, and embroidery with threads. That allows her to create other shapes of ribbons, like dolls, to give some reality for the photo.
She displays and sells her work year-round in bazaars and churches. When not working at her ribbon embroidery art, she likes classical music, painting, hiking, and long walks.
Contact Nadia at: margo_morcos@yahoo.com