Molly Forsythe Folk Artist
Molly H Forsythe had great art teachers from an early age. Artists who took her outside to draw and paint the world around her and to show her great examples of art from the gold goat of Ur, to Calder's mobiles, to a ceramic tiles railing of customers in a café.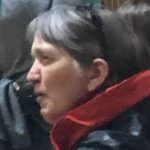 Molly sees gesture and movement in art, more than symmetry and proportion. For this reason she calls herself a Folk Artist. Not that she lacks training. She took intensive Art-Art History with Hiro Kawasaki at the Evergreen State College. For a year and half she copied the composition, line, chiaroscuro and colour of European masters. In 2004 she took a three year ceramic apprenticeship with Dawn Burnham.
Since then she has been using clay for canvas to create ceramic tiles that tell stories and sculptures that express gesture.