Jana F. Jaros painting a visual diary of experience and feelings
(Click image for a larger view and details)
Born in Ottawa, Jana moved a lot throughout her life. This has allowed her to see different communities and experience different ways people think and express themselves. She admits it was also very challenging for her, as a child, to stay in touch with friends (internet didn't exist then) and art was her rock during these transitions. She mainly works in acrylic on custom built canvas.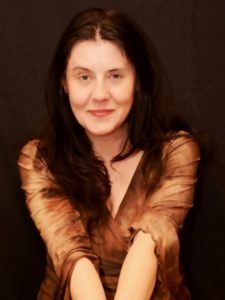 Her 'Landscape Series' reflects the places she has lived and experienced. The 'Figurative Series' focuses on a visual diary of experience, feelings and thoughts she has had along her journeys. She believes there are viewers out there who may relate to these works, reminding them of similar experiences of their own.
Jana attended and graduated from the Ontario College of Art and Design University in Toronto. She also holds a diploma in Culture Heritage Conservation and Management from Fleming College in Peterborough. She continues to be an active participant and supporter in community engagement of arts and culture. Jana can be often found dividing her time developing a social platform for arts and culture in her area, participating in events, exhibits, fund-raisers and weekly drawing groups.
Website: www.jjarosstudio.com
Email: jaros013@gmail.com ( zero thirteen)