Heather Assaf Choose from one to three colours, a big flat brush, some music and just let it happen
(Click an image to view larger with titles and details)
My journey of learning and discovery, through making art, has been ongoing for 26 years now. It all started with classes in drawing, life drawing, graphic design, illustration and layout, black and white photography and development. Next came learning to paint with oil, pastel, watercolour and acrylic. A few years later I became obsessed with intaglio and relief printmaking and spent many years with my own press enjoying learning the intricacies of intaglio printmaking. Mixed media is the final culmination of all of my previous learning. I am now using a combination of many different mediums and techniques in my paintings.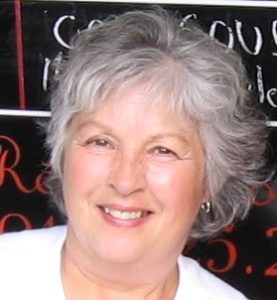 I love colour and textures. When beginning a painting there is total abandonment. I choose from one to three colours, a big flat brush, some music and just let it happen. This is the most exciting part of the piece. Whatever shows up on the canvas is the framework for what will come, with mood and intuition guiding at this stage. Most of the time a very complicated and much too busy piece results, which then needs to be calmed down and simplified. This is the difficult part of my process. Thankfully, my background in graphic design helps organize the painting to a satisfying completion. Working on a few canvases at the same time helps in this final 'pulling it together' part of the painting. It's a good thing I am a fairly patient person as a lot of patience is needed to work this way!
I enjoy using collage in some of my work using papers that I stain and draw on and then rip up. Mark-making using pencils and India ink as well as found objects to draw and scribble with is also a big part of my current painting style. Lately, painting with my fingers is another way to add finishing designs to the work. Experimentation is very important to my process – I am open to any new techniques or ideas that call me to try. Every day is a new day! I like to keep an open mind.
Along the way I've been involved with many art organizations, co-op art galleries, outdoor and indoor art shows and a few studio tours. My paintings have been shown in many small art galleries and gift shops in Ottawa and other towns and cities in Eastern Ontario.
Currently I have gallery representation in Ottawa with Koyman Galleries and also show my work in the Ottawa School of Art Boutique Gallery, the Gallery Gift Shop in Arnprior and the Saatchi Art online gallery.
To learn more about the art of Heather Assaf visit: www.heatherassaf.com