Gilly Marston Nature and the sea inspire her art
(Click an image for larger view and details)
Gilly is a landscape and wildlife painter working mostly in acrylic, and occasionally in oil. She is also a photographer and uses her images as the basis for most of her paintings.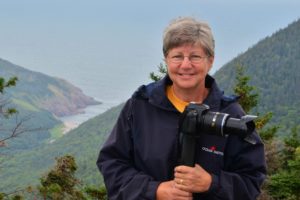 She lives in Beckwith Township in a forested area with a large vibrant marsh behind the woods. This home and extensive travel through North America, visiting natural areas for hiking, birding and photography, provide ample inspiration for her art.
Her recent art projects have mostly been divided into two series. The 'North West' series focuses on travel in the western prairies, mountains and Alaska. The highly distinctive series, 'Tide's Out', focuses on a close-up view of seashore life. The signature piece in the Tide's Out series is titled 'Remembering Rachel'.
'Remembering Rachel' is my tribute to Rachel Carson who loved the creatures who live at 'The Edge of the Sea' and was also a hero of the environment many years ago. By reminding us of the beauty of these life forms, then and now, we are encouraged in our efforts to protect the ocean. The piece aims to show the wonderful richness of interconnected life in the secret world at the seashore. It is four fully painted panels which are each quite complete but together are fully complete. https://www.rachelcarson.org/
Photography Images
Fine Art Photography – that involves digital processing with often multiple image layers. Mounted on wood boxes in 12×12, 12×18, 20×20 or 20×30 sizes.
(Click an image to see larger view and scroll through all images)
Gilly has shown and sold her art and photography at Arts Carleton Place's art sales and other local associations – West Carleton Arts Society's Art Shows and the Manotick Art Association's Art Shows. Her art is often on display at the Arts Carleton Place 'Art in Public Places' locations.
To learn more about Gilly's art and photography:
Email: artbygilly@xplornet.ca
Website: www.beavergallery.ca
Facebook: https://www.facebook.com/Gillymarston