Gilly Marston Landscape & Wildlife Artist / Photographer
(Click an image for larger views with titles & descriptions.)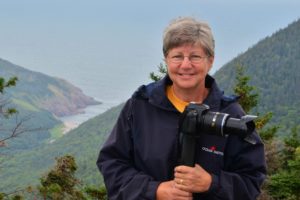 Gilly has been painting landscapes and wildlife for ten years. After taking art classes to establish a good foundation, she has developed her own style and approach to art. A feel for light and colour was further encouraged by the late art instructor Marie-Hélène Lajoie. Gilly is also a photographer and uses her images as the basis for most of her paintings. She lives in Beckwith Township in a forested area with a large vibrant marsh behind the woods. She travels extensively through North America visiting natural areas for hiking, birding and photography.
Photography Images
Nature for Gilly is full of texture, colour, moods and emotion. Worn landscapes, rocks that have stood for millennia, water ever changing and reflecting, skies in joy and sorrow are subjects to be explored and painted.
Gilly has shown and sold her art at Arts Carleton Place's art sales and other local associations – Nepean Fine Art League's Art Shows and the Manotick Art Association's Art Shows. Her art is often on display at the Arts Carleton Place 'Art in Public Places' locations.
Each piece of work is framed with a custom frame she makes in her workshop and stained and varnished to suit that work.
At her home – Beaver House, she has a gallery where her work can be seen by appointment.
Beckwith Township
gillymarston@gmail.com
613-257-5476