Giedre Abromaitis capturing our world full of colours and shapes
(Click an image for larger view and details)
Giedre began painting in 2016, after retiring from a teaching career as a high school English teacher. She enrolled in classes through the City of Ottawa and began painting in acrylics. Soon after, she added oils and enjoys working in both mediums. Giedre has continued taking classes over the years, and has attended several workshops, all intended to increase her knowledge of art techniques.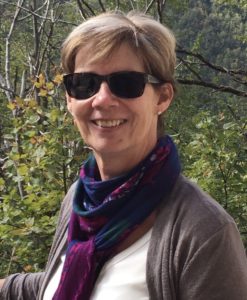 The beauty of the Canadian landscape inspires Giedre in her work—the lakes and forests of Ontario, the majestic mountains of the west, and the simple trails of local forests and parks. She loves the vivid colours found in nature and tries to depict their beauty in her paintings.
As she moves forward in her artistic pursuits, Giedre continues to explore new and varied painting methods and has recently introducing palette knife paintings to her repertoire. "Our world is full of colours and shapes, all coming in different sizes and tones; I want to be able to capture all these in my work."
Giedre is currently the President of the Manotick Art Association and is a member of the North Grenville Arts Guild and Arts Carleton Place. Her work has been shown in the recent MAA spring and fall shows, the NGAG spring show, at the North Gower Library, Miller's Oven, Salamanders Restaurant, and the Bistro.
Further viewing of Giedre's work can be found on her Facebook Page, Giedre's Art at: www.facebook.com/abromaitis53
Contact info: abromag@gmail.com