Elisabeth Thomson Bright colours, stark images, shadows and reflections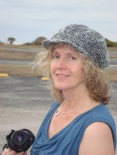 Elisabeth paints primarily in acrylic and watercolour and is interested in a wide range of subject matter, including landscapes, florals, portraits, semi-abstract figures and wildlife. She enjoys photography and has a large collection of reference pictures taken in the Ottawa Valley, Algonquin, Haliburton Highlands, and throughout Canada and the United States, the Caribbean and parts of Europe.
Elisabeth is especially drawn to bright colours, stark images, shadows and reflections. She tends instinctively to divide images into Cubist-style sections, to create edges and angular shapes. She paints subjects in unusual colours and often alters reality through metamorphosis.
Elisabeth began her artistic career following a four-year art course in Ottawa, after which she sold portraits on commission while working in a gallery in Hull, Quebec. She went on to become an elementary school teacher, but continued to draw and paint and take courses in Ottawa, Haliburton and Kleinburg. She recently decided to work full time at painting, and sells work on commission, in galleries and has had two private shows held in Ottawa.
Her goal is to continue experimenting with various eclectic subjects and styles to create works which are decorative, meaningful and self-expressive.
Visit Elisabeth at ethomsonart.com