Colleen Gray Powerful messages speak to the state of our planet
(Click an image to view larger with title and details)

Colleen Gray is a Metis artist and the founder of The Art For Aid Project, an initiative that sees new and gently used art supplies being sent into remote First Nations, Inuit and Metis schools across Canada.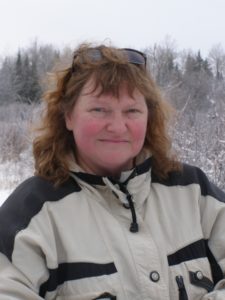 The Art: For many years Colleen worked primarily with ink and watercolour pencil on paper, bringing to life, the quiet mysteries of her traditional teachings. However, this past year has seen her take a sharp turn towards a fascinating and relatively unexplored medium through the use of ground mineral based watercolour paint on synthetic paper. A truly unique medium, the synthetic paper and paint combination offers a unique and somewhat unpredictable surface with results that leave both rules and artistic confinement in the dust. This progressive art form is catching the eye of those who are looking for something off the beaten path.
The Background: Colleen's heritage is a combination of Mi'qmak and Irish but neither heritage was prominent in her upbringing. Nearly 20 years ago she discovered her Eastern Indigenous roots and took a deep dive into the ceremonial community, resulting in experiences and traditional teachings that are now brought to life through her art. Through her work, powerful messages speak to the state of our planet, to issues surrounding Indigenous poverty, the mysteries of Indigenous spirituality, and the many questions surrounding missing and murdered Indigenous people.
The viewer's eye is drawn into the work and the viewer is captured in the search for subtle hints of hiding faces and figures tucked away in the folds and layers of the paint. The art itself is an exercise in observation, but the accompanying stories that reveal the true nature of the work are the jewels in the crown.
The Purpose: Through her art, Colleen's intention is to reach the hearts of those who recognize the broad global issues we are facing in the world today and encourages all to seek solutions without judgment as we move forward together in concert with one heart, one mind and a singular effort to save our only home – our Mother the Earth.
Colleen uses the sales from her art to provide the means to ship new and gently used art supplies to remote Canadian schools through her organization, The Art For Aid Project. Colleen believes deeply in the impressive power of art to bring healing to youth who struggle daily with poverty, isolation, racism and the long reaching effects of a colonial system that even today, offers more barriers than solutions. Through The Art For Aid Project, Colleen brings much needed supply relief to teachers who are often out of pocket when they want to bring a unique art learning experience to their students. The Art For Aid Project runs several initiatives beyond shipping art supplies to schools; the "Mylar Blanket Warm Home Initiative" raises funds to buy and ship Mylar emergency blankets to struggling communities. "The Map To My School" is a fundraising initiative to put professional Indigenous place-name maps into remote schools. (See the website for more information on these initiatives.)
All of the funding for these projects is art-driven. Shipping anything to a remote community is expensive, and challenging, and Colleen depends on art sales and public support to keep the shipping budget flowing using social media to garner an audience for her work and for funding.
The Future: In a very exciting event in October 2018, six pieces of Colleen's artwork will appear on large scale digital and print billboards and in bus shelters on a national scale through the organization "Artists Against Racism", in an effort to bring a greater level of awareness to the public about the challenges facing Canada's Indigenous population.
More of Colleen's art and initiatives can be seen on her website at https://www.artforaid.ca/art-portfolio and on Instagram at https://www.instagram.com/afapcolleen/.