Cathy Rivoire her favourite subject – animals, domestic and wild!
(Click an image for a larger view)
Cathy Rivoire completed a Fine Arts degree at the University of Guelph. She specialized in the field of art and drama, with the Upper Canada District School Board in Ontario, where she taught for thirty years. After retirement, Cathy turned her passion for art to illustrating children's books. She has published five books, four with various authors and one of her own.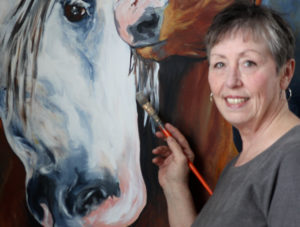 After health issues, her love of art took a back seat to the road ahead. Three years later, with the help of some inspirational friends, the need to create returned in earnest and painting everyday became her new focus.
Cathy works primarily in acrylic, pastel, pencil crayon and tar gel and water based inks. Although she enjoys all subject matter, she always returns to her favourite subject – animals, domestic and wild!
Cathy is available for pet portraits, working from photographs and personality descriptions. All portraits are guaranteed before payment.
She can be reached at rivoire@hotmail.com