ACP's mission is to empower artists and area residents through the arts. What could be more empowering than providing young artists support for their post-secondary studies in the arts?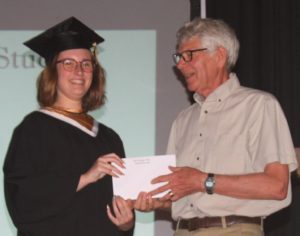 Each year, Arts Carleton Place provides a bursary for both high schools in Carleton Place to be awarded to a student graduating who demonstrates a commitment to the arts in their high school and community and will be continuing with the arts in their pursuit of higher learning.
On June 28th, Lee Thirlwall presented on behalf of ACP a $1000 Bursary to Breanne Murray, from Notre Dame Catholic High School, who is off to Vancouver to study at the Emily Carr University of Art and Design.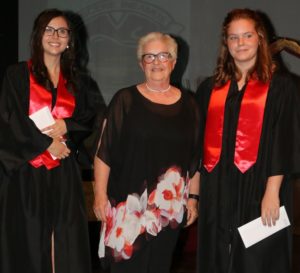 On June 29th, Suzanne Deschênes, President of Arts Carleton Place, presented $500 ACP Bursaries to Carleton Place High School's Kierra Bencz and Emma Lewis. Kierra Bencz will be studying Visual Arts at the University of Ottawa while Emma Lewis has chosen to study in the field of Human Kinetics also at the University of Ottawa. Emma Lewis demonstrated a strong commitment to the arts in her high school and is also the recipient of the Maurice Price Foundation Merit Award presented by Jamie Bell. Lewis also placed 2nd in the IODE English essay competition.
The Mississippi Mudds, our local community theatre group, provides a bursary to a student pursuing the performing arts in a post-secondary institution. Louise Link from the Mudds presented a $750 bursary to Alexander Wolff, from Notre Dame Catholic High School, who auditioned for and was accepted to the music program at Queen's University.
Notre Dame honoured several young artists at the graduation, including Lindsay Narbonne, who was the recipient of the 'Without Exception Art Award'.
ACP and the Mudds are made up of artists in Carleton Place and the surrounding areas – people who show great passion towards the arts and understand the importance of what dance, drama, music, visual arts, the literary arts can bring to our lives and community. It is with immense pride that they award these bursaries to such deserving students.