Anne Forsythe Colourful and Energetic Art
(Click and image to view large with title and details)
Inspired by her natural surroundings, Anne draws on her love of nature to feed her growing artistic passion. Picking up a paintbrush for the first time in 2014, her art has been described as colourful and energetic.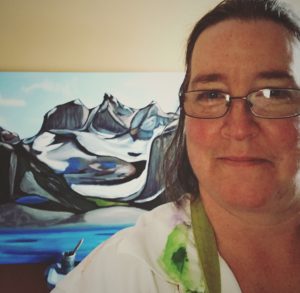 Her current topics of interpretation include sunflowers, landscapes and mountains. Her 'Happy' series, pairs vibrant sunflowers on a dark or black background while exploring the joy that sunflowers invoke. Her first Happy sold while it was still in development in her studio.
Not afraid to try on different styles as she continues to develop as an artist, her mountain-scapes are ambitious. She draws on her memories of the Canadian Rocky Mountains and the mountains of the Scottish Highlands as her inspiration. This challenge propels her in new directions and provides new techniques to master to deliver her desired mood for each piece.
Anne lives and works in Carleton place as a chef and baker and paints daily in her studio in the company of her dog Mable.
To view her entire gallery please go to AnnesCanvas.