Welcome to our website!
Join ACP by completing the form on the Membership page. Members signup for Art Shows or Art-In-Public-Places on those pages. If you are interested in local arts events, check the 'posts' on the left for ARTS Upcoming and definitely Subscribe to the monthly 'Artsy Happenings' Newsletter. Don't forget to 'Like' our Facebook page.
---
Who we are … Arts Carleton Place was officially launched as a non-profit organization in the fall of 2005 and continues to recognize, celebrate and promote the unique artistic activity in the vicinity. With an eye to 'empowering artists and area residents through the arts' this group promises to raise awareness of the arts, develop partnerships within the community and identify and develop the area's artistic capacity to its full potential.
VOLUNTEERS are needed to fulfill our mission!
To help out, become a Volunteer.
---
Youth Artists Special Initiative
Arts Carleton Place assisted two community organizations with their art programs – Carleton Place and District CORE Youth Services and Lanark County Interval House.
CORE Youth Services and Centre provides young people with social, educational, recreational and developmental opportunities, enhancing the well-being of youth and our community.
Lanark County Interval House has an active Young People's Art Program! "The young people love to paint on canvases and there are not enough of them in stock". This a good way to get young people talking.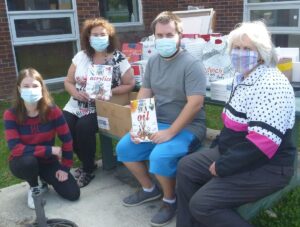 ACP members' and supporters' donations of canvases, other art supplies and cash made it possible for ACP to contribute needed art supplies to these wonderful organizations.
Thank you to our members and supporters for making it possible for Arts Carleton Place to support Youth Artists at 'Core' and 'Interval House'.
---

The Postponed 2020 Show
is CANCELLED Due
to COVID-19
See you next spring!
---
The popular November Itty Bitty Arts & Crafts Show has also been cancelled for 2020.
---
The 'SHOWCASE' box highlights our members' diverse talents. Go to the Galleries section where members have their own page with bios, links and many photos of their art, photography, jewellery, book covers, theatre productions and music covers. This is their website!
To help out, become a Volunteer.
ART CREDIT: Featured image at top of page from a painting by ACP member Denise Guillemette.